Everyone does it tough at some point in their journey. So what can we learn from those who deal with stress or pressure on a regular basis? Hosted by Paddy Steinfort, a performance coach to some of the world's best who Sports Illustrated has called "Master Mind", this show takes world-class performers from a range of arenas (from athletes to academics, entrepreneurs to entertainers, medicine to military) back through their journey to find their hard earned answers to a simple question: what does toughness look like in action? Initially recorded exclusively for the US Army & veterans only, the intent behind these talks was to help soldiers and families deal with stressful situations so they dont just survive but thrive. But given the challenges everyone in the broader community faces these days, the full tapes of these exclusive interviews will now be released to the public via the Toughness podcast - so we can all benefit from the toughness of those at the top.
Episodes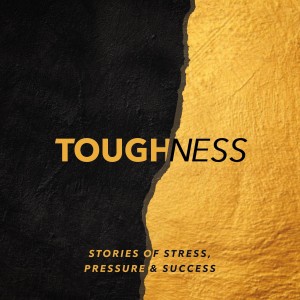 Monday Jun 20, 2022
Monday Jun 20, 2022
How do people deal with prolonged discomfort? How can you hang on when the going gets tough? How can you avoid cutting corners or getting lazy when the payoff seems forever away? At the halfway point of our series of specially curated episodes, a topic comes to mind that covers all of this - Emotional Endurance. 
In this episode we hear how people that stand out in very different arenas manage to keep their emotions in check in high stakes situations. From gambling millions of dollars in World Series Poker, to driving and crashing a 200mph Nascar racing car, or living for 10+ in war zones, some guests had to learn not only how to deal with the pressure of being a World Champion, but also how to find balance within their teams. This is an episode that will definitely help you to put the weight, pressure and bullshit aside and hang in there through hard times.
FEATURED IN THIS SPECIAL EPISODE: 
Margaret Coker (Journalist) - The Waiting Game Of War
Jesse Iwuji (NASCAR Racing) - The Drive to Thrive
Jorryt Van Hoof (Poker Player) - High Stakes? Poker Face 😐
Jared Tendler (Performance Coach) - High Stakes? Poker Face 😐
Denise Shull (Finance) - Trading, Triggers, And How Feelings (Like Fear) Help Us Win
John Burns (Wall Street) - Trading, Triggers, And How Feelings (Like Fear) Help Us Win
Michael Hixon (Olympic Diver) - Staying in Sync Under Stress
Sam Dorman (Olympic Diver) - Staying in Sync Under Stress
Cody Royle (Performance Coach) - The Tough Part of Being the Top Dog